Liner notes by jazz songwriting legend Bob Dorough
from FUTURE STREET:
Marilyn Harris is, in my opinion, on a fast express track to Future Street, where it's at, to a beat so sweet and bittersweet, you'll want to go there too. Here she gives us a varietal songbook that covers every aspect of life and love, surrounding herself with a pack of talented cats that bounce us along on a breezy ride to satisfaction and completion. Ms. Harris has been around the block and now, as a singing songwriter, and driving a mean piano, she zooms through your neighborhood, sweeping out the care, the blues, and other debris and leaving you with a feeling of - WHUZZAT? Besides the listed players, she has the inestimable company of arranger/producer/engineer Mark Wolfram, who also does a zippy vocal duet with Marilyn. She also has, as guest vocalist, the great Mark Winkler, an already arrived Future Street cat, who co-wrote five of the songs with her. Ah, the songs! Aside from one brilliant "standard," she wrote them all (there is one other collaboration in the set.) So, drop the needle, as we used to say, on this baby: sit back and relax - fasten your seatbelts. Play it in the car! Play it in the bar! Play it anywhere. We're gonna take you there...to Future Street!
DOROTHY PARKER (Marilyn Harris) gets it rolling, with a message to the faint of
     heart - based on a poem by Parker: Resume. Check it out....
     Tenor Sax solo - Dan Higgins
AIN'T GOT NOTHIN' ON YOU (Harris/Smith) is Marilyn's lyric to the music of her
     teacher, Hale Smith, to whom she dedicates this CD....
     Vibraphone solo - Bob Leatherbarrow, Flugelhorn solo -Warren Luening
FUTURE STREET (Winkler/Harris), the title tune, gets the joint a-jumpin'....
Tenor Sax solo - Pete Christlieb
SUNGLASSES IN THE RAIN (Winkler/Harris) is a jaunty, really hip, tongue-in-cheek,
hipster snapshot of the street life Mark Winkler strolls along and Pete Christlieb
     plays some cooool tenor to make the duo a trio....
MY DISSIPATION (Marilyn Harris) ....well, I don't know what to say. She got it in a
     dream, she says. If you run into Ms. Harris you could ask her - but she seems to
     feel that you can sing about anything as long as it has that samba beat - and it
     does.... Flute solo - Dan Higgins
IN A LONELY PLACE (Winkler/Harris) was inspired by an old movie of the same
     name, a smoky ballad... Trombone solo - Andy Martin
EXPRESS (Marilyn Harris) - Man! We're on our way! It was an instrumental once - but
after writing lyrics for a New York City vocal group that never happened, she drafted
inside man Mark Wolfram, to make it a flying duet -
simultaneous words a-whoppin' -boppin'....
INSOMNIAC (Winkler/Harris) - Ha! Delightful, as long as I don't have to stay up late.
Marilyn says she's the essence of the song whereas her co-writer is the opposite -
a Day Person - but with imagination....
LOST IN THE STARS (Anderson/Weill) is a rarity among "standards". I've never
     enjoyed the song more, and we are reminded of the presence on this set of arranger
     Mark Wolfram.... Flugelhorn solo - Wayne Bergeron
DON'T WANNA KNOW (Marilyn Harris) comes from Marilyn's reading of a "Savage
Love" column by Dan Savage. Wise advice, maybe, for the "never tell" group....
Flugelhorn solo - Warren Luening, Trombone solo - Andy Martin
THE GOOD GUYS (Winkler/Harris) - Mark Winkler says this lyric came out of the
     recent troubles our country has experienced, you know. Marilyn gives it a groove
      with hope of peace, love, and stability.... Baritone Sax solo - Bill Liston
LOVE MEANS NEVER HAVING TO SAY GOODBYE (Marilyn Harris) - Marilyn says
     you do have to say "I'm sorry" when you're in love, in order never to say "Goodbye" -
     that's the trick.... Trombone solo - Andy Martin, Alto Sax solo - Dan Higgins
There it is. Play it agin! - Bob Dorough, on the cusp of the new year - 2004...
---
What people are saying about FUTURE STREET:
"The amazing thing about FUTURE STREET is not only the remarkable writing and singing abilities of Marilyn Harris. It goes beyond fine arrangements and solos. The lyrics to these songs are hip and they swing like mad. This music goes beyond the boundaries of music alone. There are stories here to make you smile, make you feel good and to even shock you. I hope this is just the start of more to come from this gifted artist interpreting it all from humor to pathos through the magic of her song."
- Peter La Barbera, Jazz Zine
"Marilyn Harris, a very talented lyricist-composer, has a highly appealing voice, is a fine pianist and shows both sensitivity and great wit in her lyrics. FUTURE STREET has 11 of her best songs including several (including 'Dorothy Parker,' 'Future Street,' 'Insomniac' and the very funny 'My Dissipation') that should become future standards."
- Scott Yanow, Author of "Jazz On Record" 1917-76
"The songs!!! They're smart, funny and lyrical with great heart. All the things I wish I could be when I grow up! Keep on doing what you're doing! Sounds to me as if you're doing it right."
- Gene Seymour, NY Newsday
"FUTURE STREET is superb! The singing and playing, the arrangements and the band, all were just great! And from you, I would have expected nothing less. Congratulations to everyone who had a part in making this the terrific musical document it is!"
- Marvin Stamm, Jazz Trumpet Legend
"FUTURE STREET is an outstanding new vocal package from West Coast jazz singer/songwriter Marilyn Harris. ..[she's} working without a net on her own compositions, which happen to sound like they belong to the category of very familiar, and sturdy jazz riffs that sound like they've been in place for some time...A large measure of the success of this project is the musicianship of the players gathered for this session. There are soloists featured on every track and solid ensemble work. Andy Martin's trombone, Bill Liston's bari sax, the flugelhorn of Luening/Bergeron and Dan Higgins sax and flute are just some of the standouts. In his hip liner notes, Bob Dorough says it all without giving the listener any technical information on the tunes, and it is just perfect."
- Michael P. Gladstone, All About Jazz
"Anyone who despairs of the current state of American song hasn't yet heard Marilyn Harris' new CD FUTURE STREET. Musical sophistication, a sassy wit (but with a warm heart), timeless singing and world-class musical performances fill every track of this new jazz classic. The heritage of the Gershwins, Cole Porter, and the Rat Pack lives on - updated in a way that's fresh and modern, but timeless enough never to go out of style. A winner!!"
- Stephanie Bennett, Composer, Musician, Entrepreneur - Harpworld Music Co.
"I have been so captivated by FUTURE STREET - your lush voice, the classy music and lyrics, the amazing arrangements and musicians - all absolutely top-notch. I've listened to the CD twice and just love it. My favorites are "Dorothy Parker," "Sunglasses in the Rain," (you both sound terrific), and the classic "Lost in the Stars" (the way you deliver it made me weep). Congratulations on a real tour de force. "
- Adryan Russ, songwriter
"Your album is smashing!!! Very impressed by the great charts and musicians, and you're a great and hip singer!!!! Enjoyed it immensely!"
- Meredith D'Ambrosio, Jazz Vocalist & Painter
"Marilyn's lyrics tell stories of love, life and depravity, nestled in beautiful vocals and divine arrangements"
- Barbara Brighton, Jazz Producer
"Wonderful arrangements, great instrumental solos, and your vocal work is sensational. I knew you were good when I first heard you, but this not only confirms it, it is a really good demonstration of excellent jazz singing."
- Lew Spence, Songwriter ("Nice 'N' Easy")
"If you like jazz singers, then Marilyn Harris is really one to be listened to. Her vocals are great and the piano seems to really like how she plays it. She has surrounded herself with a group of musicians who make the songs a pleasure to listen to. FUTURE STREET is a wonderful album and well worthy of a place in any jazz fan's collection."
- Bruce Von Stiers, BVS Reviews
"Marilyn Harris' songs are slyly constructed gems full of wit, craft, and musicality. Blend contemporary jazz stylings, engaging lyrics, with Marilyn's hip vocal treatments, and FUTURE STREET takes you on a jazz joyride with lots of interesting turns. I have it in my Ipod!"
- Steve Ford, Composer, Steve Ford Music
"Marilyn Harris is a fine pianist, an appealing singer, and a particularly skillful lyricist and composer. FUTURE STREETis her most jazz-oriented project and it features several high points...This CD serves as proof that Marilyn Harris deserves to be much better known, for she is capable of writing many future standards.
- Scott Yanow, All Music Guide
"Marilyn's infectious vocals are matched by her intelligent compositions. It's impossible not to break into a broad grin when you hear her vocal duet with fellow singer Mark Winkler of "Sunglasses In The Rain", which they also co-wrote. Regardless of the mood, I find myself wanting to hear each track over and over again."
- Ken Dryden, The Chattanooga Pulse
---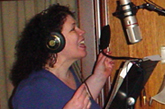 Please Email
YOUR comments on
FUTURE STREET
to Betty Richards at wrightwoodrecords.com
and we'll post them here.
---
CLICK HERE
to see Future Street session photos, and more!
---